2017 Award Recipient
The CARITAS Project, its Advisory Board, and its Award Judges and Partners are delighted to announce the Award Recipient for the Eighth Annual Generative Space Award.
---
Project Title: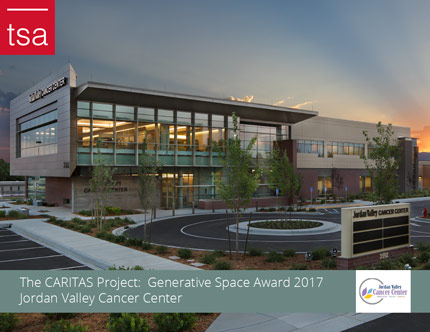 Click here for PDF of complete Award submittal.
Prior to the opening of the Jordan Valley Cancer Center, cancer patients in the region not only endured the physical, mental, and emotional toll of treatments, but were also faced with the daunting task of traveling from city to city multiple times per week to receive different treatment components. Balancing appointments, arranging transportation, and rustling up the stamina necessary to make this all happen was a task of epic proportions.
Something had to change.
The Jordan Valley Cancer Center became the first full-service cancer care center in the western Salt Lake Valley. The client envisioned a comprehensive facility where providers from medical, surgical, and radiation oncology services in diverse specialties including hematologic, gynecological, urological, head & neck, gastrointestinal, and breast care all function under the same roof. A game-changing model of care was adopted, utilizing certified Nurse Navigators who work as patient liaisons, coordinating care, appointments, transportation, and any other needs on behalf of the patient throughout the journey.
At the Center, inpatient and outpatient services converge in a nature-inspired healing oasis modeled after a hospitality theme rather than the cold, stark medical office building standard. The thoughtful, natural design paired with the revolutionary Nurse-Navigator model of care yielded an end product that resolutely affirms the client's mission to Prevent, Treat, and Thrive. It has become the new standard for cancer care and a real community gathering place in the region.
Provider Organization Primary Contact
Jodi DeJong
Director of Marketing
Jordan Valley Medical Center
3580 West 9000 South
West Jordan, Utah 84088
United States of America
JDejong@iasishealthcare.com
Consultant Primary Contact
Nathan Murray
Design Principal/Vice President
TSA Architects
1486 South 1100 East
Salt Lake City, UT 84105
United States of America
nmurray@tsa-usa.com
Individual Responsible for This Entry
Cali Goff
Marketing Manager
TSA Architects
1486 South 1100 East
Salt Lake City, UT 84105
United States of America
cgoff@tsa-usa.com
'I liked this from the beginning. Unusually for cancer centers, this entry… builds its story around communities, beginning with people living with cancer and moving outwards through families, staff, and the wider locality. It puts into practice the 'New Paradigm' LBD diagram in breaking out of a bilateral transactional relationship to embrace the admittedly complex interactions between service user, provider, and community. The architecture follows… in carefully thought-through space-forming, empathetic finishes, and legibility. This story is therefore about people and not just space. …the Jordan Valley Cancer Center is at heart a generative space, designed as such and recognized by its users as a good place to be at a time of crisis. I am therefore happy to recommend it for a 'Generative Space Award.'
'I recommend the Jordan Valley Cancer Center for the 2017 'Generative Space Award', as the creation of the Center alone exhibits systemic improvements in health, vitality, and the well-being of the individuals, organizations, and the community as depicted in the 'New Paradigm' diagram. The stand-out features of this project include its comprehensiveness of specialty providers and the Nurse Navigators model of care, which makes the facility unique. The Center definitely has the physical and social features that help create a generative space, including a nature-inspired healing oasis. Additional examples of bringing in the community in this design include the shared community conference hall, which hosts events for the Chamber of Commerce, city meetings, prevention workshops, yoga classes, etc.'
'I really like the project. It is a striking and lovely building with beautiful interiors.'
'The fact that the facility is a gathering place speaks to its success in removing the stigma of cancer. The spaces are actively connected to nature, look calm and…support collaboration; all needed in cancer care.'
---
2017 Generative Space Award Judges
Sally Augustin, PhD
Principal, Design With Science; Editor, Research Design Connections

Tama Duffy Day, MFA, FIIDA, FASID, LEED AP BD+C
Firmwide Health & Wellness Practice Area Leader, Gensler

Jessica Gutierrez-Rodriguez, MSMOT
Hospital CEO, Texas Center for Infectious Disease
Simon Henderson
Head of Service Excellence and Support, Macmillian Cancer Support

BJ Miller, FASID, CCIM
President, The Vision Group Studios

Francis Murdoch Pitts, FAIA, FACHA, OAA
Principal, architecture+

Bruce Raber, MAIBC, MRAIC, AIA Associate, LEED AP, EDAC
Vice President and Practice Leader for Healthcare, Stantec Architecture

Annette Ridenour
President, Aesthetics, Inc.

Dr. Mark Rowe, GP
Medical Director and Founder, Waterford Health Park

Dr. Wayne Ruga, FAIA, FIIDA, Hon. FASID
Founder and President, The CARITAS Project
Thank you for your interest and support of this program. Together, let us work to create a world made up of 'A Place to Flourish', everywhere and for everyone.