2011 Award Recipient Announced
The CARITAS Project, its Advisory Board, and its Award Judges and Partners are delighted to announce the Award Recipient for the Second Annual Generative Space Award.

The Award is given to:

Designed by: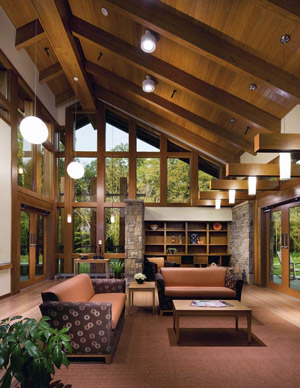 Willson Hospice House serves terminally-ill patients in Albany, Georgia. The Administrative component houses 50 home care staff who travel each day to reach patients in the surrounding 11 counties, as well as public meeting space. The rest of the I-2 Institutional Healthcare facility is organized into three pods and associated support areas for 18 inpatients. The residential program areas are designed to host patients and their families who may stay round-the-clock; the facility has a window-seat bed in each patient room. Each pod is composed of 6 private rooms grouped around a family living room with space for dining, reading, and conversation. A variety of other conversation/ assembly areas is also provided: chapel, music room, playroom for active children, family kitchenette, and sunroom.
Because the project's objective is the provision of full healthcare services in an environment that is intentionally "un-institutional," its design is as approachable and familiar as possible. The woodframed building uses extensive areas of glass to open views into the landscape, includes fieldstone accents like the lobby fireplace, and offers trellised and canopied sitting porches at patient rooms and exterior gathering spaces.
Access to the outdoors is an important part of the Willson Hospice's stress-relieving mission. Each pair of patient rooms shares a porch; double doors enable patient beds to roll directly outside where they look into tranquility gardens. The three gabled patient pods are ranged around a central courtyard; the special-use family areas all face into this greenspace focused on its specimen live oak. The chapel has its own garden, ringed with camellias. For its care in establishing sustainable resource management as part of its long-term stewardship of the property, Willson Hospice was designated a Certified Silver Audubon International Signature Sanctuary, the only healthcare facility ever to achieve this award.
It is LEED-registered and has received Silver certification.
The fully sprinklered wood structure is a combination of IBC Construction Types VB and Type VA. Structural steel and glu-lam heavy timbers enable selected spaces to expose Southern pine structural roof planking at finished cathedral ceilings. Finishes include fieldstone, cementitious siding, stained Douglas fir trim, asphalt roof shingles, and exterior cedar columns and trellises. Direct-set low-e insulated glazing units fill window walls in primary activity spaces. Interior finishes include stained wood standing and running trim, MCT linoleum, bamboo, and cork all materials with low vocs and are highly renewable.
Primary Contact:
Amy Sickeler
Design Director
Perkins + Will
E - amy.sickeler@perkinswill.com
W - www.perkinswill.com
The complete submittal is provided for your information.
(click to download).
The Judges' highly favorable comments included:
'The hospice project is a wonderful example of how generative space is being cultivated….A true beacon in the field of hospice care…Very inspiring.'
'It has excellent engagement with its local community, of which it seeks to be an integral part. People using the service therefore retain their social and emotional links with their everyday lives as far as possible. It has active plans to maintain and enhance the relationship with local community groups. It also brings elements of the community into the hospice environment, improving their own understanding of palliative care and the needs of people with advanced illness in their community.'
'It makes full use of its natural setting and the restorative powers of it, both in terms of its design and the ongoing links with nature organizations.'
'It actively addresses the environmental sustainability agenda, using its requirements as positive contributions to the patient environment.'
The Third Annual Award will be announced in late September.

Thank you for your interest and support of this program. Together, let us work to create a world made up of 'A Place to Flourish', everywhere and for everyone.