2013 Award Recipients
The CARITAS Project, its Advisory Board, and its Award Judges and Partners are delighted to announce the Award Recipients for the Fourth Annual Generative Space Award.
---
Project Title: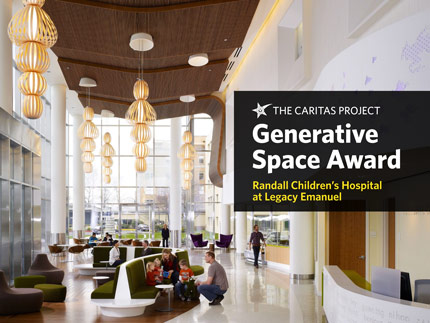 The 334,000 SF, nine-story Randall Children's Hospital consolidates pediatric services in a family-centered care environment and creates a new identity for the children's hospital on the Legacy Emanuel Medical Center campus. The facility houses 165 inpatient beds in single rooms for acute care, neonatal intensive care, and pediatric intensive care, a new pediatric Emergency Department, short-stay unit, the Children's Cancer and Blood Disorder Unit, a pharmacy, and rehabilitation gym. New gardens off the first floor lobby and third floor public area provide open space areas for play, conversation and contemplation, and connections to nature. Generative highlights include an integrated and self-reinforcing environment; improved patient and family satisfaction; reciprocal and mutual collaboration across organizations; systemic improvements in health, vitality, and well-being of individuals from patients and families to staff and visitors; community support and newfound physical connections to community; and sustainable strategies that support environmental awareness.
Primary Contact:
Sue Ann Barton, AIA, LEED AP BD+C, EDAC
Principal
ZGF Architects LLP
1223 SW Washington Street, Suite 200
Portland, Oregon 97205 USA
E sueann.barton@zgf.com
T (503) 863-2328
The complete submittal is provided for your information.
(click to download).
Judges' Comments:
'Interiors are carefully considered, with specific references to children and young adult needs allowed to surface, bringing individuality and life to the spaces. The inclusion of generous spaces for parents and carers is particularly well provided, recognizing that generative space needs more than just an individual relationship with the environment.'
'The building connection to the neighborhood, rather than just the campus, is outstanding.'


---
Project Title: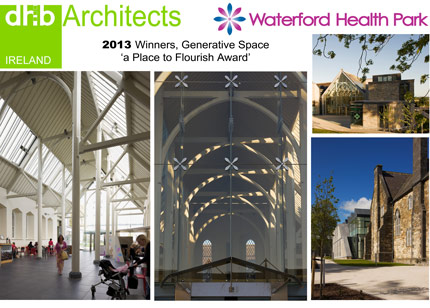 Waterford Health Park is an enhanced Primary Care Centre located in Waterford City, Ireland. The Waterford Health Park envisages a new understanding of health where social inclusion and community development support systemic and sustainable improvements in health. Our aim is that the Waterford Health Park building becomes the change agent for improvements in the health of our community through joined up thinking, linking primary healthcare with education (local schools), sports clubs, environment and our City. In 2009 the building was developed into Waterford Health Park conserving the building's existing features while additional space was created through the addition of new wings using the latest in sustainable technologies to create a healthy and eco-friendly building taking advantage of solar energy and reusing captured rainwater. The original building is a protected structure of National importance that has been part of Waterford's fabric since the mid-19th Century having been designed by AWN Pugin
Provider Primary Contact:
Mark Rowe
Medical Director
Waterford Health Park
Slievekeale Road
Waterford
Ireland
E – drmarkrowe@gmail.com
The complete submittal is provided for your information.
(click to download).
Judges' Comments:
'An exemplary submittal that seriously addresses the generative space criteria and what the judges are looking for.'
'The presentation shows evidence of a community beginning to flourish, supported by firsthand accounts of staff and patients'.
'This project best exemplified how it is doing the 3 key things –
'Historic design integration with contemporary use is exceptional'.


---
2013 Generative Space Award Judges
Sally Augustin, PhD
Principal, Design With Science; Editor, Research Design Connections

Tama Duffy Day, FASID, FIIDA, LEED AP
Principal, Perkins + Will

Simon Henderson
Head of Cancer Environments, Macmillan Cancer Support

BJ Miller, FASID, CCIM
President, The Vision Group Studios

Bruce Raber, MAIBC, MRAIC, AIA Associate, LEED AP, EDAC
Vice President and Practice Leader for Healthcare, Stantec Architecture

Annette Ridenour
President, Aesthetics, Inc.

Dr. Wayne Ruga, FAIA, FIIDA, Hon. FASID
Founder and President, The CARITAS Project
Thank you for your interest and support of this program. Together, let us work to create a world made up of 'A Place to Flourish', everywhere and for everyone.