2012 Award Recipients Announced
The CARITAS Project, its Advisory Board, and its Award Judges and Partners are delighted to announce the Award Recipients for the Third Annual Generative Space Award.

An Award is given to:

Designed by: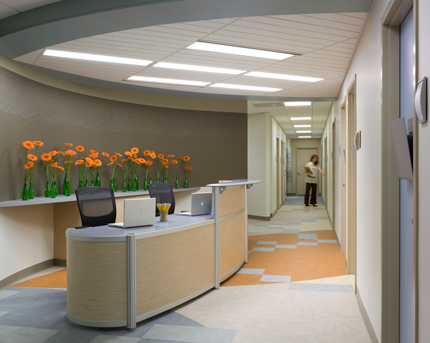 Photo Credit: Ken Hayden Photography
While Congress battles over the future of healthcare reform and the Affordable Care Act, healthcare providers are focusing their budgets and brainpower on the medical home model and improving patient health through preventative measures and wellness. Free clinics serve as a medical safety net for hundreds of thousands of Americans, including over a million uninsured Virginians, providing services for such as annual examinations, dental care and mental health care. 70% of free clinics run solely on private funding. The need for affordable access to healthcare is clear.
The Arlington Free Clinic (AFC) is a private, non-profit, community-based organization that provides medical care at no charge to low-income, uninsured persons in Arlington County through the use of volunteers and other health providers. AFC opened their doors in 1993 realizing a need in Arlington: although adjacent to the wealthiest counties in the nation, individuals were struggling to find affordable healthcare. After decades of leasing facilities, AFC took on building a permanent home in South Arlington where 53% of their patients reside. Perkins+Will was selected to guide the design process. At the onset, the team shaped the process through research that included interviews, questionnaires, observation and day-light studies. All the aspects of the project focused on creating a healing environment that was affordable and maintainable. Furthermore, the 8,600 SF of space needed to satisfy three entities: delivering patient care, organizing 500 volunteers and fundraising millions. A simple flower provided the organizational concept, transforming the clinic spatial paradigm. The concept illustrated the importance of a stable core and the beauty in the organic nature of the petals. This "core" engaged the four essential elements of AFC: welcome, support, community and treat.
After the opening of the new space in 2009, AFC provided more than 9,000 free medical visits (up from 7,850 in 2008 at their old space). As of 2011, that number has increased to 11,000. The number of individuals seeking care at AFC has tripled in the last 18 months. 83% of patents feel that they would describe the facility as "wow." The necessity of a "wow" factor was the direct language from Executive Director, Nancy Pallesen during the project visioning session with the design team. In 2008, AFC praised 631 volunteers in the clinic. After opening the new space in 2009, volunteers increased to 698. Two years later, the numbers have grown to 720 volunteers to aid in the delivery of care to those in need. Those patients, staff, volunteers and community visitors truly experience "health" in a space thanks to ample amounts of daylight and improved air quality all thanks to planning efforts and a LEED® Gold Certification. AFC was the first free clinic in the nation to achieve LEED® Gold Certification.
One cherished memory of the client and design team was hours prior to the grand opening of the Clinic in 2009, when an AFC patient was overheard holding the door open for another patient and stating: "Welcome to the Arlington Free Clinic. This is a place for healing." After three years, Clinic staff continue to see positive improvement, "The quality of our space enhances the quality of our work." — Nancy Sanger Pallesen, Executive Director.
Client:
Arlington Free Clinic
Nancy Sanger Pallesen
Executive Director
Primary Contact:
Jamie Huffcut
Project Designer
Perkins + Will
E – jamie.huffcut@perkinswill.com
W - www.perkinswill.com
Project Team:
Architect and Interior Design:
Perkins+Will / www.perkinswill.com
Engineers:
Integral / www.integralpe.com
General Contractor:
Bognet Construction Associates, Inc. / www.bognetconstruction.com
Client Advisor:
Silverwood Companies / www.silverwoodcompanies.com
Furniture Dealer:
Washington Workplace / www.washingtonworkplace.com
Logo and Graphic Designer:
Rachel Conrad Design
Client Project Manager:
The Magellan Group
Relocation and Technology Coordinator:
Relo-Strategy / www.relostrategy.com
Wall Mural Artist:
Jane McElvany Coonce / www.jmcelvany.com
Photographic Art:
Rick Miller / Kalpana Kuttaiah
Architectural Photography:
Ken Hayden Photography / www.kenhayden.com
The complete submittal is provided for your information.
(click to download).
The Judges' highly favorable comments included:
'This project shows what can be achieved with a deep understanding of the needs of its users.'
'It is a total "wow."'
---
An Award is given to:
Designed by: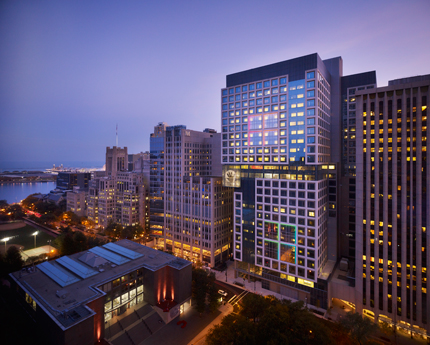 At 23-stories, the new 1,255,000 SF Ann & Robert H. Lurie Children's Hospital of Chicago, the tallest children's hospital in the world, integrates inpatient and ambulatory care, diagnostic and treatment spaces, and clinical support. Lurie Children's is located on a 1.8-acre site on Northwestern University's Feinberg School of Medicine Campus, just north of the downtown business center of Chicago. This location will increase clinical, academic and research opportunities. Lurie Children's is also connected by bridges to the Prentice Women's Hospital, which will allow for faster transport of critically ill newborns.
The building's design supports a 2nd floor emergency department, 3rd and 4th floor diagnostic and outpatient clinics, along with radiology, operating rooms, psychiatry, and support services on the remaining lower floors of the building. The upper floors house inpatient services. These distinct services are divided by two levels of public and family support spaces on the 11th and 12th floors, respectively. On the 11th floor, major amenities include an indoor garden, cafeteria, gift shop, and large conference center. The 12th floor houses a chapel, teen lounge, a central playroom, hair salon, and a family sleep center. Color selections for the hospital are based on five palettes—city, park, lake, woods, and prairie—inspired by Chicago and the surrounding regions. The colors and themes also contribute to wayfinding between and throughout the floors of the hospital.
The new facility opened in June 2012 with 288 family-friendly single-patient rooms with capacity to expand to 313 licensed beds. Each room is estimated to be 290 square feet. This more than doubles the space available for each bed from the former semi-private rooms. The size of the rooms allows for more technology at the patient's bedside. The new hospital will provide for a 30% increase in faculty growth.
The 45-bed Kenneth and Anne Griffin Emergency Care Center, located on the hospital's 2nd floor, and the Crown Sky Garden, an interactive indoor garden located on the 11th floor, are just two of the hospitals unique solutions to the vertical stack.
More than 20 of Chicago's esteemed cultural institutions, in partnership with the hospital and design team, have contributed their time and talents to help make Lurie Children's an engaging and healing environment for patients and their families. Each of the hospital's 23 floors features special, child-friendly designs with unique art and interactive exhibits that celebrate the spirit of Chicago.
Primary Contact:
Ted Hyman, FAIA
Partner
ZGF Architects LLP/
Solomon Cordwell Buenz / Anderson Mikos Architects, Ltd.
E – ted.hyman@zgf.com
W - www.zgf.com
The complete submittal is provided for your information.
(click to download).
The Judges' highly favorable comments included:
'A stunning piece of civic design, fully exploiting the demands of a city center location.'
'Inventive, child-centered and evidence-based, this should set a benchmark for children's hospitals.'
---
Thank you for your interest and support of this program. Together, let us work to create a world made up of 'A Place to Flourish', everywhere and for everyone.