2010 Award Recipient Announced
The CARITAS Project, its Advisory Board, and its Award Judges and Partners are delighted to announce the Award Recipient for the First Annual Generative Space Health Improvement Award.

The Award is given to:

Designed by: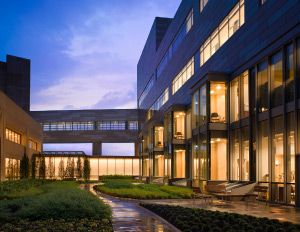 The Cancer Institute is the spatial embodiment of translational medicine. With outpatient cancer treatment spaces and scientific research laboratories combined in a single structure, this is a visible destination with a distinct institutional identity: open, patient friendly healthcare.
The design solution is rooted in the landscape and connections to nature. The sweep of the "arc"—a unifying landform that defines the building geometry, approach, façades and gardens—organizes a series of addresses for the Cancer Institute, the Medical Center and the future Children's Hospital. Once within, spaces collect around iconic atria and courtyard where visual transparencies make exterior spaces year-round extensions of the interior environment. Further, a novel collocation and commingling of offices for researchers and clinicians on the two upper floors occurs around a social interaction hub that fulfills the project's mission: fostering translational exchange and innovation to speed the discovery of a cure.
Primary Contact:
Jennifer Hegarty
Marketing Manager
Payette
E - JHegarty@payette.com
W - www.payette.com
The complete submittal is provided for your information.
(click to download).
The Judges' highly favorable comments included:
"It provides innovation and documentation of how they have succeeded with the design of the building to promote collaboration and communication, recognizing the variety of needs for privacy and community of cancer patients."

"...it does have measured results that indicate improvement over time."

"...this is an outstanding environment, both physically attractive and cleverly planned to allow creative interaction between its professional users. The use of garden spaces as external counterpoints to the high density interior is admirable..."

The Second Annual Award will be announced in late September — including a new category to cover the work of all 'local agents', revised submittal criteria, and key dates.

Thank you for your interest and support of this program. Together, let us work to create a world made up of 'A Place to Flourish', everywhere and for everyone.